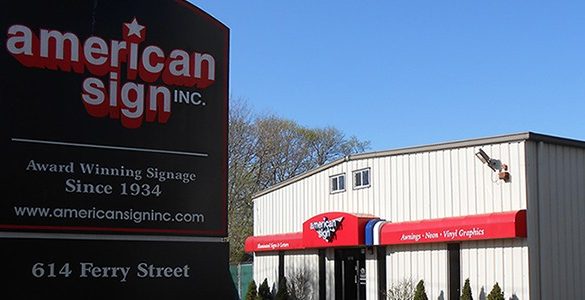 Is American Sign, Inc. Licensed?
Yes – Both the President and the Operations Manager of American Sign, Inc. Hold a C7 Limited Electrical Sign Contractors License as required by the State of CT. Our Installation Staff also hold C8 Limited Electrical Sign Installers Licenses as required by the State of CT. Copies of the Licenses are available upon request.
Is American Sign, Inc. Fully Insured?
Yes –  American Sign, Inc. is Fully Insured and a copy of our certificate of Insurance is available upon request.
Does American Sign, Inc. have a relationship with UL (Underwriters Laboratories)?
Yes – American Sign, Inc. is a UL Recognized company. Our UL File # is E-92359. Our Electrical Products can have UL Labels on them at the clients request.
What Type of Artwork Files do you need to make Signage out of our Logo?
The best format in which to provide us your artwork is in a .EPS or .AI file that has been created in a Vector Format. In many cases we can use a PDF as well. Other file types may or may not be useable or may require additional art charges to make them useable.
What areas do you serve in CT?
American Sign, Inc proudly serves the communities of: New Haven, East Haven, West Haven, Branford, North Haven, Orange, Milford, Stratford, Bridgeport, Wallingford, Waterbury, Cheshire, Southington, Prospect, Wolcott, Watertown, Meriden, and Middletown, as well as the rest of Connecticut, and all surrounding states.
What Forms of Payment do you accept?
We accept Cash, Checks and Visa, MasterCard
What fonts can we use on our project?
It's important to choose a font that is legible and reflects your brand. The font or typeface refers to the letters or characters that make up the copy on the sign. Fonts are categorized by Serif, San Serif, Script and Specialty. Remember that some fonts are difficult to read. We can help you consider factors such as visibility, readability, noticeability and legibility when choosing the font for your sign.
Can I use a copyrighted image in my sign?
Yes – If you have the proper permissions and documentation from the image owner.
What materials can you build signs with?
Some of the materials we use are acrylic, aluminum, banner, corrugated plastic, fabric, magnetic, PVC, vinyl, and wood.
How much maintenance would my sign require?
The amount and types of maintenance would depend on a lot of factors, including materials the sign was built with, conditions (such as weather), and lighting used.